Education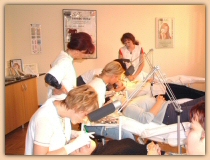 What is Permanent Cosmetics?
Permanent Cosmetics is a 4,000 year old process that has been brought into vogue the past 15 years. Permanent Cosmetics is the permanent application of pigment into the skin for eyebrows, eyeliner. lip liner, complete lip shape reconstruction, birthmarks, nipple arcolae (after reconstructive surgery of mastectomy patients),scar camouflage for hypo and hyperpigmented scars (this could include burn victins as well as vitiligo patients), spider vein camouflag, and hair simulation in scalp for alopecia areata patients otherwise known as tattooing.
In ancient times this process could only be afforded by the elite and very wealthy. Today, technology and new innovative processes have made the price affordable for anybody to have this process done.
How does Permanent Cosmetics Work?
At SofTap ® Permanent Cosmetics the process is done by the manual SofTap ® method. SofTap ® is a registered trademark of SofTap Permanent Cosmetics. We use a set of several fine single needles that are dipped into a permanent pigment mixture and then applied into the skin according to the desired shape or design that is pleasing to the client having the procedure done.
What is the SofTap ® Technique?
The SofTap ® technique is a registered trademark. Only our graduates have mastered this permanent makeup technique. The SofTap ® technique is a very controlled, gentle and safe technique compared to other methods. It's so gentle that many times a topical anesthetic does not have to be applied.
Why do clients prefer the SofTap ® technique over all other permanent makeup procedures?
Simply said, it is the most gentle and comfortable procedure and it looks the most natural. With the SofTap ® technique individual fine hairs can be easily and artistically draw on.
The final look is natural, soft, powdery and subtle.
The method tries to give you a natural look and is not comparable with the traditional Tattoo – method ! It has much more to do with Cosmetics than with anything else.
SofTap® Permanent Makeup Course
The duration of the course and the number of participants
The course lasts for five days and it includes a theoretical and practical training. The course runs on Sunday, Monday and Tuesday from 9 am to 6 pm, on Saturday from 9 am to 5 pm, on Wednesday starts at 9 am and finishes between 3 and 5 pm. There are only a few students in a group. (max.: 6 ).
Topics for SofTap® course:
Practice
eyebrow, eyeliner and lipliner makeups
full lip color
correction of previous permanent makeups
profusely practicing in permanent makeup, live models are at service
Theory:
design makeups, positional techniques, tricks, forming shapes
general colour knowledge, colour theory, the SofTap® colour system
analysing skin types
pre and after treatments
consultation with the client
Starter Kit
colours (pigments). 15 colours (partly based on individual choice)
permanent makeup pens (5 pieces 12 prong needles)
other accessories: disinfectants, rubber gloves, pigment cups, skin marker, etc., so everything necessary for permanent makeup.
Course fee:
Fee of training: € 1.000 + 27 % VAT
Starter Kit: € 300 +27 % VAT
While you are practicing, you can use our materials without extra charge. Starter Kit is for your own business.
Certificate
Those who finish the course successfully are given a certificate which enables them to use the SofTap® international trade mark all over the world.
After finishing the course we are still happy to be at your service.
Enrolling, further information please find contact information.